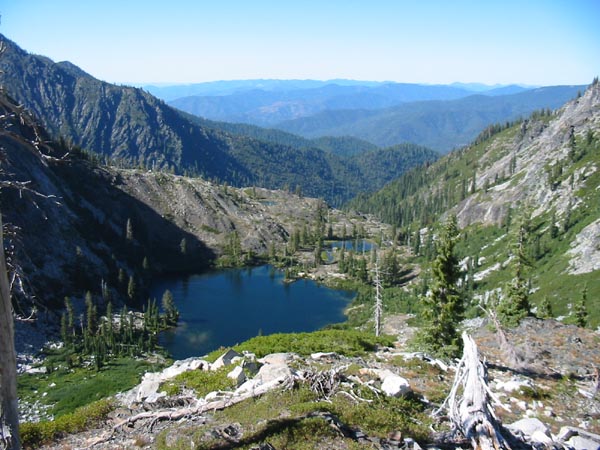 South Fork Lakes
Excellent pair of lakes. Lower lake set in a ring of lush grass, backed by tall firs, and hemlocks. Upper lake is
surrounded by cliffs. Both lakes are excellent for swimming. It's a moderate to strenuous 2 1/2 mile hike.
There's also a South Fork Dam round here. There was also the infamous Johnstown Flood of 1889 occured after the catastrophic failure of the South Fork Dam on the Little Conemaugh River:
"On May 31, 1889, after several days of unprecedented rainfall, the dam gave way. A torrent of water raced downstream, destroying several towns. When it reached Johnstown, 2,209 people were killed, and there was $17 million in damage.
This was the first major disaster relief effort handled by the new American Red Cross, led by Clara Barton. After the flood, victims suffered a series of legal defeats in their attempt to recover damages from the dam's owners. Public indignation at that failure prompted a major development in American law: state courts' move from a fault-based regime to strict liability. The Johnstown Flood became a symbol of the havoc, 20 million tons of water unleashed from the reservoir.
Part of the St. Michael neighborhood, and most of Creslo, of the town St. Michael-Sidman, Pennsylvania now sits on the bed of the former Lake Conemaugh." (according to Wikipedia.)

South Fork Dam. A modern view